Funny happy birthday wishes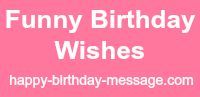 Everyone loves to receive funny birthday messages from a good friend at their special day of the year. It is not always possible or easy to send a gift to someone, but sometimes, a small and funny message for birthday can make a huge difference. Here you can find a list of the best funny birthday wishes to send to a friend.
The funniest happy birthday messages
1) Did you know that people who have more birthdays live longer than others? Happy Birthday!
2) Birthdays are nature's way of telling us to eat more cake.
3) Forget your wife's birthday once, and you will remember it for all of your life. Happy birthday to your wife

4) Age is a number and yours is unlisted.
5) The fact that it's your birthday doesn't makes you more important than me.
6) Always follow your heart, but take your brain with you. Happy Bday!
7) Today is your day, tomorrow will be a new one.
8) I've bought you a present for your birthday, so now you have to give me a gift for my birthday.
9) I hope that this year you will finally win the lottery.
10) Another year older, not much wiser. Happy birthday my friend!
11) Happy 90th birthday, cheer up, you don't have much longer to live.
12) Happy 18th birthday, now you've got my permission to do anything you want.
13) Many many funny birthday wishes messages for you.
Summary
This page is updating often with new funny wishes for birthdays that you can share on Facebook or on Tumblr, stay tuned for more. If you want to share with us more ideas for funny birthday wishes please comment below, thanks!
Related post: Happy 50th birthday messages