Happy bday my dearest sister!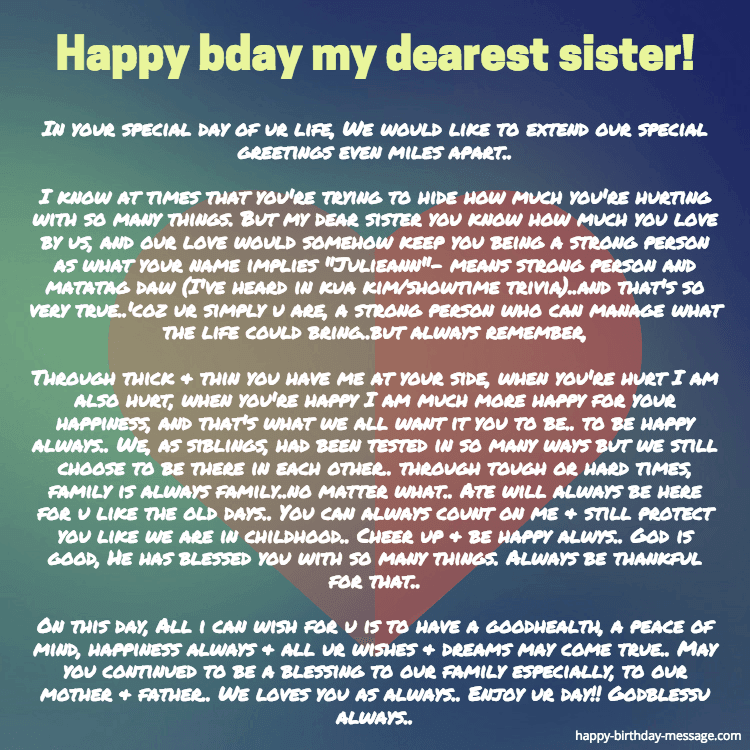 In your special day of ur life, we would like to extend our special greetings even miles apart.
I know at times that you're trying to hide how much you're hurting with so many things. But my dear sister you know how much you love by us, and our love would somehow keep you being a strong person as what your name implies "Julieann"- means strong person and matatag daw (I've heard in kua kim/showtime trivia) and that's so very true.. coz ur simply u are, a strong person who can manage what the life could bring, but always remember…
Through thick & thin you have me at your side, when you're hurt I am also hurt, when you're happy I am much more happy for your happiness, and that's what we all want it you to be.. to be happy always.. We, as siblings, had been tested in so many ways but we still choose to be there in each other.. through tough or hard times, family is always family.. no matter what.. Ate will always be here for u like the old days.. You can always count on me & still protect you like we are in childhood.. Cheer up & be happy always.. God is good, he has blessed you with so many things. Always be thankful for that.
On this day, all i can wish for u is to have a good health, a peace of mind, happiness always & all ur wishes & dreams may come true.. May you continued to be a blessing to our family, especially, to our mother & father.. We loves you as always.. Enjoy ur day!! God bless u always..