Happy 50th birthday wishes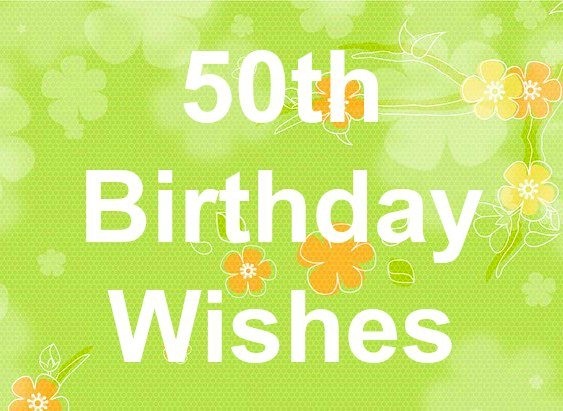 Would you like to wish a friend happy 50th birthday but not sure how to do so? There are lots of good ways to wish happy 50th birthday, here we have some of the nicest and funniest 50th birthday wishes for a friend, sister, brother or a coworker.
Funny 50th birthday wishes
50 is old enough, I wish that you from this day forward you will become younger every day.
Yes it's a little embarrassed but you are 50 now, hope you'll have a fun birthday!
You are so old that jesus probably know who you are.
It's not that bad, now you have experience of two people that are 25 years old, and you are one person.
My birthday wishes for your 50th birthday might be not that funny, but they are coming from the bottom of my heart.
What can I say that will make you laugh? Happy 50th birthday kneidlach!
Nice 50th birthday wishes
Happy 50th birthday to my best friend! I remember you since you were about 3 years old, I hope we will stay friends until 125.
Today you are 50 years old, happy birthday!
Dear friend, I am sending to you many many 50th birthday wishes and blessings.
We've been together since the day you were born, and we will stay together until the end of time. Happy 50th bday!
Congratulations for your 50th birthday, I am wishing you many many happy returns of the day.
I am so happy, today is a special day for you, my wishes are that all  of your dreams for the next 50 years will come true.
What's more?
That's it… you can use our wishes to say happy birthday to anyone you would like. Do you like those happy 50th birthday messages? Which is your favorite one? Please comment below and tell us what are your ideals for special 50th birthday wishes!